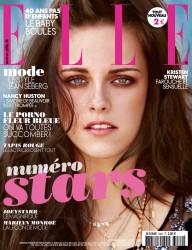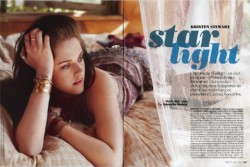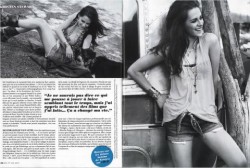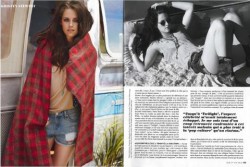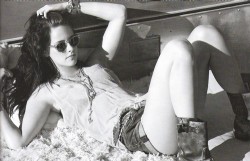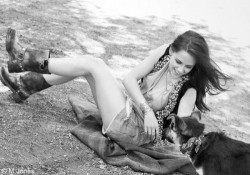 About the article via @Merylouuu "The photoshoot took place in the Topanga Canyon mountains The article talks about her career/life : twilight, panic room, OTR ! But it's mainly about OTR ;)The journalist talks very briefly abt Rob ! Saying they can't deny their romance. nf there's a small talk about Balenciaga and Nicolas Ghesquière."

Kristen Stewart has changed. Since it emerged in the (very) general public, in 2008, in the guise of the ingenue Bella Swan in the first part of the saga "Twilight," one as both have come a long way. The character has discovered the joys of sex (it was not until episode 4, we guess it was faster for Kristen), thoroughly lived his love for a vampire (Stewart can no longer deny her romance with Robert Pattinson, his half-screen), and has experienced the wickedness and loneliness ... The actress, she has lived her transition to adulthood under the spotlight. She was 18 during the First Part. It has now 22, still looks a teenager, kept in that tone of voice that stands out cool defiance in a crowded Hollywood pin-up robot, and now has something in his eye of decided to volunteer, but also, more surprisingly, sexy.
During our photo shoot in the mountains of Topanga Canyon overlooking the beaches of Malibu, the actress is comfortable and strikes a pose with this casually and somewhat shy, which is his trademark. A break, until the sun goes down, and it installs with a few cigarettes to discuss the film that promises to be a turning point in his career. She knows and speaks passionately: "On the Road" is the role of her - young - life. "When Walter Salles has chosen me to embody Marylou, she recalls, I was 16. It was my favorite book, the role I could not have missed. "Raised in Los Angeles by a TV producer father and a writer mother, Kristen Stewart has" grown up on a platter. " "I was constantly on the prowl in the neighborhood, and I dreamed of having a job that would allow me to be part of the process. It was that of an actress by chance. It's on the job, working with directors awesome, I learned to like it. "She is 11 years old when David Fincher made to play the daughter of Jodie Foster in" Panic Room ", she was 17 when Sean Penn assigned a small role in" Into the Wild. " An actress so many years before that of star, and the transition was not easy. "The first few times I was recognized in the street, it was a complete surprise, she says. It may sound naive, but until "Twilight," the celebrity appearance had completely escaped me. I suddenly found itself facing in this unhealthy interest that relate more to the "pop culture" in the movies, people come to ask you a photo or an autograph because you have seen in a magazine people, but they have no idea of ​​movies in which you played. This is disturbing. "
Today she has found the solution
Today she has found the solution: "To accept the idea that everyone is a little weird. [...] Anyway, when things do not affect you, it's as if they did not exist. "So, for the" fame game "actively ignored. For roles, however, it is a mechanism that triggers reverse: to give life to his characters, Stewart asks only to leave them completely away, touching, upsetting. "To embody someone, you have to feel things for real, change skin ... It is a mysterious process that takes time. I am often frustrated when the director yells "Cut!" Before I reached that moment where I feel inside me that I succeeded in raising the right emotion. "When she talks about his job, his gaze awakens, his voice is deeper, fluttering his hands, clap his chest to mimic the intensity of an emotion. There is something sexual in his description of the game, this quest for the ultimate moment of letting go, which leaves it on the floor if it is interrupted before the paroxysm.
It welcomes the friendship that unites its partners
It welcomes the friendship that unites its partners to "On the Road", Garrett Hedlund (an irresistible Dean Moriarty) and Sam Riley (amazing in the role of Sal Paradise, Kerouac's alter ego). His relations with his colleague Robert Pattinson have been a moment beyond the strict professional is no longer a mystery. But, lucid, Kristen has fun in the past have experienced moments with someone facing the camera, without nothing remains off the shelf, "We saw this very intense moment and when we meet the next day you say "But you're that, anyway?" "The cinematic equivalent of a one night stand! Of desire, frustration, envy ... Kristen Stewart has a carnal relationship to comedy, and we understand that Walter Salles has seen it before everyone else: a raw sensuality that makes perfect Marylou, the only girl that boys tolerate their side in " On the Road, "a young woman released, sassy, ​​lost. Absolutely right throughout the film, Stewart Bourlingue it without false modesty, revealing in each shot more than a breast or a piece of ass. Its most intense scene is played also fully clothed, she dancing for several minutes furiously frenzied games and sex with a Dean Moriarty bewitched, and they both emerge sweaty and disheveled. Hot but never lewd, it's a real performance.
Become someone else
Become someone else, experiences to false but the feel for real ... "I can not say what drives me to play pretend all the time, she admits to wanting to tell stories to people, but I learned so many films that I made ... It changed my life. It is a strange desire, a strange impulse. "We knew her as honest and passionate, and we were rather surprised to see the beautiful rebel to pass the rope around his neck by Balenciaga, who recently made her new face. She said she became interested in fashion after "years of forced learning": "I dressed for the red carpet by obligation, until I realized it was a huge chance. "So when Nicolas Ghesquiere has proposed to" be ", she jumped at the opportunity:" The superficiality of the fashion world, I decided to ignore it. However, Nicolas is one of the coolest people I know. To hear him talk about his work, be with him, in the wake of people like him who love beautiful things, it's incredibly exciting for me. "Make each experience collaboration, enrichment of each meeting, it is the creed of Kristen Stewart, wise young woman who struggles to extricate himself from the depths of misunderstanding in which a diving adventure" Twilight " . After "On the Road," it will be on view this summer in "Snow White and the Hunter", rereading the Grimm tale to the sauce with big budget special effects lectures. She portrays a feisty princess and pure. What convinced the latest disgruntled, who wanted to see her as a starlet passage, it is here to stay, and begin its transformation into beauty, before the release in November, the latest chapter of the adventures of Edward and Bella, which will free forever from the grip of the vampire movie vampirizing. Moulting has just begun.