Monday, October 31
He refuses point blank, to talk about his girlfriend, Sienna Miller, or Robert Pattinson, his childhood friend.

"When you agree to be interviewed, it's an opportunity to review your own moronic-ness" he says. "It's OK if I come across as a complete idiot, but it's not fair for me to describe or refer to anyone else. Anyone can be tainted by my mention of them".
Sunday, October 30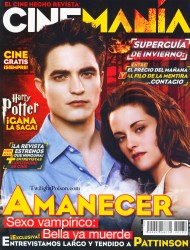 Your character and Kristen's shared so many romantic times during the filming, especially the last day of filming.
The last day of filming in Saint Thomas was great. It was just Kristen and I. The only time we were able to film with a nice weather. It was literally the last day of filming, and we were filming a scene in which we're kissing in the ocean, all night. So it wasn't a bad way to say goodbye. Then everybody stayed to watch the sunrise. It was beautiful.
Can you share something about Kristen?
The only thing she likes to watch on TV is the cooking channel, especially when she's on set. She has her TV on all the time in her make up trailer. That's her only diva behavior (laughs); the cooking channel must always be on, any time, everywhere.
What was it like playing a dad? Was it hard?
Not at first. You're holding a baby, which is not easy to do, but nobody knows how to be a father at first. You can't prepare for it. It was weird whn Mackenzie Foy had to play my daughter because you start to think: "My daughter is now 11. It's been two months that she's been born and now she can talk." It was complicated to play. But it's a fantasy movie, so you have to believe it.
You said you were nervous of taking off your shirt this time.
When I did New Moon, someone in the studio said I needed a six pack and I had to work out. I had to look like a vampire, it was part of the character. As soon as they told me I neded a six pack, I stopped working out and I never did it again for the rest of the series. They realized they shouldn't have told me anything. In this last movie I spent six weeks in Baton Rouge with nothing to do, so I started running. And then I started going to the gym and I became obsessed. I ran 14-16 km everyday. I even rode a bike. Until I got bored. Plus, when you're filming, if you want to go to the gym you need to do it at 4 am. That's just not worth it (he laughs in a very infectious way).