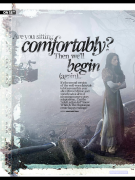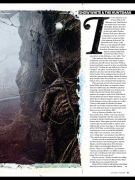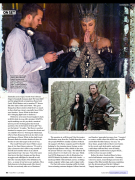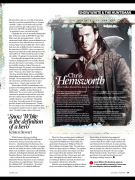 Thanks to kristenstewartUK for the scans via @patsystew/ Gossipgyal


I made a partial transcript of Kristen's quotes.
A few minutes later, Kristen Stewart strides over in full body armor. Her 'hair black as night' as Ravenna herself terms it, this Snow White is bruised and battle-scarred. So how was that little tete-a-tete? "Getting the crap kicked out of me by Charlize?, she grins. It's been good. She's not afraid to take a hit. And she keeps telling me to hit her harder. We're similar in that we shut off when the cameras start rolling. I think she hit my stunt double today. Not to blow her cover, but we both go into a zone and it gets fairly dangerous.
(...) It's cool to play a character who's able to step outside of herself and consider others in an almost supernatural way," she says "but at the same time knows that she's human and has those struggles and still fights for herself as well. She's the essential leader. The definition of a hero...so many of our heroes are assholes. They find pleasure in hurting other people. She doesn't. Yet she can seriously takes care of business."
(...) It's defnitely the most action I ever had to do.
(...) It's so rare to have a lead [female] character to be proactive and push her own story forward, rather than be affected by all the outside elements" says Stewart. "Hopefully, we do that. I'm really proud of it. It's always good for women to be empowered.
(...) For Stewart, it means starting a new franchise just after freeing herself from the jaws of another one. But she's ready for it. "Well, I am the fairest in the land" she says, tongue firmly buried in cheek. And I have a seriously good heart, for people that don't know me!" The happy ending starts here.

"She's tiny but that was a punch. She's like 'Ive never hit anyone before'. I was like, "I dont believe it" - Chris Hemsworth

"Snow White is the definition of a hero."
Via
Posting: Riesty ^^